DIABETESpredict® Genetic Test: Knowledge That Can Save Lives
A DIABETESpredict® Genetic Test is a genotyping tool that evaluates genetic predisposition for type 2 by analyzing the DNA sequence of 16 single nucleotide polymorphisms (SNPs) associated with type 2 diabetes risk.
Developed by the European company Patia, and world-leading doctors and scientists at the Massachusetts General Hospital and the Broad Institute of MIT and Harvard, this is the first commercially available genetic test for type 2. Currently, DIABETESpredict® is the only predictive genetic test for diabetes available in the United States.
Using a proprietary mathematical algorithm, the test calculates a risk score and reveals the likelihood of the patient developing type 2 diabetes. This information allows doctors to anticipate and monitor their patients, as well as recommend diet, physical exercise, and lifestyle changes based on the test results to prevent the development of type 2 in the future.
Today, Premier Medical Laboratory Services offers access to this personalized genetic analysis test. To learn more about DIABETESpredict® Genetic Tests, please complete the form.
How does DIABETESpredict® work?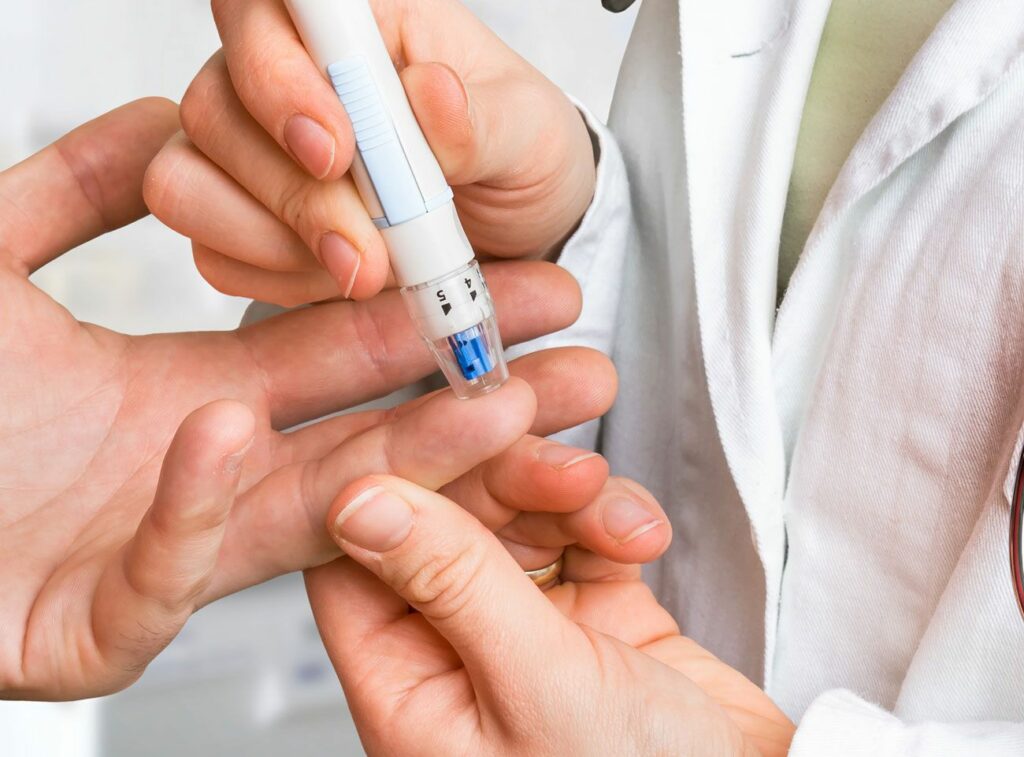 A simple buccal swab or blood sample

is used to gather the patient's genetic information –– specifically 16 single nucleotide polymorphisms (SNPs) in 16 genes associated with type 2 diabetes risk in a variety of ethnicities.

Once the data is gathered, Patia's proprietary mathematical algorithm generates a risk score that reveals whether a patient is at high, medium, or low risk of developing type 2 diabetes.

Based on the results and genetic profiles of each individual, customized recommendations are created for each patient. Doctors can then use this information to monitor their patients and provide routine and lifestyle changes to help prevent type 2.
DIABETESprevent App for Type 2 Diabetes Prevention and Intervention
Once a patient has taken the DIABETESpredict test, they will have access to additional resources designed to help them control their health in order to prevent type 2 –– one of which being the app DIABETESprevent. Through this platform, patients can monitor their progress across a wide range of important health areas associated with type 2.
Physical Activity
Track physical activity within DIABETESprevent using the Patia pedometer or connected devices and wearable technology. Also included in the app are challenges, such as step or distance challenges, to keep you motivated.
Nutrition
Keep track of exactly what you eat with the app's built-in nutrition features and food database which provide insights into calories, protein, carbohydrates, and more based. With personalized daily or weekly diets, you can easily plan your meals and ensure you meet your dietary goals.
Health Management
Manage your overall health with Biochem lab indicators within the DIABETESprevent app. Genetic Risk, A1C test, Quantose IR, Blood Sugar, and Body Mass Index can all be tracked within the platform. Follow-up alarms and reminders for drug treatment can be set up within the app to help keep you organized. In addition, your doctor will be able to regularly monitor your progress with the help of evolution graphics that can be viewed weekly or monthly.