The growing global crisis of AMR poses a major threat to global health.1 As new resistance mechanisms emerge, it is becoming increasingly difficult to treat many common infectious diseases, none more so than Urinary Tract Infections (UTI).
According to the CDC, there are at least 2.8M people each year who will get an AMR, with 35,000 deaths.2
With all ages and both sexes being at risk of UTI, and 95% of UTIs being bacterial3, this increases the prevalence of inappropriate use of antibiotics.
Carefully targeted antibiotic treatments can be achieved by utilizing molecular detection of bacteria and resistance genes, minimizing the instance of overuse.
The Growing Threat of Antimicrobial Resistance in UTI Patients
Many routinely prescribed antibiotics for the treatment of UTIs have been shown to have high rates of resistance.
One study published in the Internal Journal of Microbiology showed antibiotic resistance across all bacterial isolates to be common among fluoroquinolones4.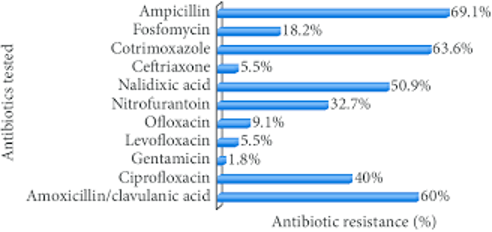 In addition, evidence suggests an increase in the prevalence of extended-spectrum β-lactamase5, resulting in inappropriate antibiotic prescription practices.
Given the serious threat this poses to individuals and the global population, it is imperative that healthcare providers select the right antibiotic treatments.
Combating AMR
Providers can avoid ineffective antibiotic treatments through Effective Antimicrobial Susceptibility Testing (AST),
Identifying the invading bacteria is important since some bacteria are predictably susceptible to certain antimicrobials. The AST will assess whether an isolate has an acquired resistance to a particular antimicrobial agent.
AST is not only a valuable tool for providers to preserve antibiotics and target therapy, but it can aid in mitigating the growing global threat of AMR.
MDGeneticPro® for UTI
MDGeneticPro® clinical solution is an FDA-cleared state of the art molecular microbiology test.
The UTI panel identifies 23 common pathogens (including rare/slow growing organisms), the presence of polymicrobial infections, as well as resistance/sensitivity to 9 different antibiotics by targeting 24 antibiotic resistance gene markers.
Reduce unnecessary drug exposure
Improve antibiotic stewardship
Easy to ready 1-page report
Covered by all insurance including Medicare/Medicaid
Results in 24-48 hours
Please click on the following link for an informative video: https://bit.ly/3gfturC
About Premier Medical Laboratory Services
PMLS is an award-winning laboratory, delivering clinically meaningful results for better patient outcomes.
As an industry leader in molecular diagnostics, our in-house team of PhD scientists, laboratory staff, and customer care team deliver accuracy and reliability that is unmatched. We are innovators and thought leaders, moving the medical industry forward with the latest in science and technology.
We are committed to helping our clients meet the highest standards in patient care.
REFERENCES
1 – Antibiotic resistance (who.int)
2 – https://www.cdc.gov/drugresistance/index.html
3 – https://www.merckmanuals.com/professional/genitourinary-disorders/urinary-tract-infections-utis/bacterial-urinary-tract-infections#:~:text=About%2095%25%20of%20UTIs%20occur,UTI%2C%20particularly%20in%20older%20patients.
4 – Rolf Nyah-tuku Nzalie, Hortense Kamga Gonsu, and Sinata Koulla-Shiro, "Bacterial Etiology and Antibiotic Resistance Profile of Community-Acquired Urinary Tract Infections in a Cameroonian City", International Journal of Microbiology Volume 2016, Article ID 3240268
https://www.ijidonline.com/article/S1201-9712(19)30208-5/fulltext
5 – Deepti Rawat and Deepthi Nair, "Extended-spectrum β-lactamases in Gram Negative Bacteria", Journal of Global Infectious Disease, 2010 Sep-Dec; 2(3): 263–274